AKINSOFT LICENSE SYSTEM
INVOICE
- Product validity is checked by invoice or License Certificate. Thus, keep invoice of purchased AKINSOFT product.
- Invoice of product will be delivered to you by AKINSOFT authorized agent.
- After receiving Invoice, check the product name and its modules. Remember that Invoice must include AKINSOFT brand.
e.g.
AKINSOFT WOLVOX (Modules)
LICENSE CERTIFICATE
- License Certificate is program license certificate specially designed by AKINSOFT for its customers. Customers may provide License Certificate from customer login panel.
- If you lose the invoice, you should certainly print out License Certificate.
WARNING
The software of users whom haven't held an Invoice and License Certificate is considered as
UNLICENSED SOFTWARE.
- Invoice and License Certificate is considered as license.
- Do not forget to print out License Certificate from customer
login.
ADVANTAGES
- Invoice and License Certificate is referred to as legal license certificate of customers.
- Usage right for License Certificate belongs to the person or company registered on AKINSOFT Headquarters.
- License Certificate holder would use this license number for all processes.
- License Certificate holder could benefit from the special offers mounted by AKINSOFT via license number.
TO OBTAIN
- As long as you purchase software, enter customer login using license no and security code that sent to your e-mail address. You may print out certificate by clicking on Print License Certificate from customer panel.
AKINSOFT VALID LICENSE CERTIFICATE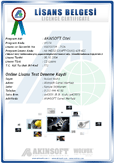 AKINSOFT LICENCE SYSTEM
| | | |
| --- | --- | --- |
| Service Type | Professional License | Enterprise License |
| Training Time Included in License Price | It must be get in 3 months from the order contract date. | It must be get in 3 months from the order contract date. |
| Main Version Upgrade | Applied 60% discount on list price. | Applied 80% discount on list price. |
| Sub Version Upgrade | Free | Free |
| Annual Maintenance Service | Paid | 2 hours onsite service (technical support, trainings, etc.) is free for each month in the first year. |
| Turnover operations at the end of the year | Paid | Free for 3 years. |
| Gift Module | None | 1 piece |
| Corporational Customer Representative | - | Available |
| Participation to AKINSOFT Organisations | - | Available |
| Advertisement in Inovax | - | 1 page advertisement, 1 page reportage |
1-
End user training time depends on the software that end user purchases. Training time is specified in Overseas Software Order Contract. End user is obligated to get training in latest 3 months for Professional License, 12 months for Enterprise License after filling order contract. The trainings that are requested after this time are charged.
2-
The invoice, label, etc. forms of customer who purchases software for the first time are designed by the AKINSOFT's authorized person who gives training. This operations are included in training time. After free training time, all software forms designs are charged.
• If enterprise is transferred totally, transfer fee is not charged. Otherwise, transferee enterprise can purchase the software with 50% discount. In either events, the transfer contract that is signed between enterprises is considered..
• AKINSOFT Professional License Customers can pass to Enterprise License by paying the price of Professional License fee of current software that they use.
• Additional trainings are charged as much as 10% of the software license price (the price without campaign).
Warning:
• For the softwares that are below, the operation and training expenses that are stated in 1st and 2nd clauses are charged extra. Besides, this software can not be transferred to someone else.


• Octoplus
--------------
• FilterPlus, CafePlus Filter 
--------------

 
 
NOT1: 1 gift module that can be get with Enterprise License does not involve "Chain Marketing, Simple Production, Promotion Managament, Restaurant, E-Commerce, CRM, MRP II, Hotel, Ledger, Fixture, Payroll, Attendance Track, Fuel Otomation, General Accounting, Online Work Center" modules.
At least WOLVOX Pack-1 must be licensed for 1 gift module.

NOT2: New version updates that are presented to be used are free. Main version upgrade are charged. The software training time in main version upgrades is different from the trainings for the first time.
The past rules are considered in past upgrade operations of AKINSOFT softwares that are included in one of "Professional License" and "Enterprise License" license types.

Do not forget to request your invoice of AKINSOFT software that you purchase!