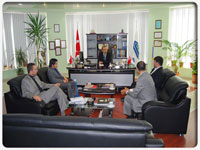 AKINSOFT with more than 14 years experience, professional working style and modern software programming is flourishing in informatics field. AKINSOFT strives to present its technologies across the world. AKINSOFT along with extending solution partner network all over Turkey, intends to intensify its international business activities since 2009 in Azerbaijan.

AKINSOFT by delivering its quality to Azerbaijani enterprises during visit of its Azerbaijan solution partner SFX company manager Mr. Babayev Feyzulla and sales manager Mr.Faruk Er in Turkey, signed a distributor contract and designated SFX company as its Azerbaijan distributor.

Both sides agreed for extensive sales, strategic plans and extend AKINSOFT Azerbaijan solution partner network for the year of 2009. SFX Company manager Mr. Babayev Feyzulla claimed AKINSOFT programs are highly attractive in Azerbaijan. He emphasized his aim for extending AKINSOFT programs to all Azerbaijan territories, continues support for better marketing and help firms to accelerate their business.

After several meetings SFX company manager Mr. Babayev Feyzulla and sales manager Mr. Faruk Er, had dinner with AKINSOFT board chairman Ozgür Akın, solution partners sales manager Hasan Bozyigit, foreign trade manager Tuna Keles, public relations and R&D personnel.